Mini audio amplifier with LM386
In more portable devices it use LM386 who is 1W audio power amplifier with x20 to x200 gain (26..46dB) and BASS BOOST feature.
Is very usefull to read the datasheet from Texas Instruments or UTC.
I made a sound surveillance system using LM386 with huge gain like in article How to get 74dB by LM386 writted by Kazuhiro Sunamura.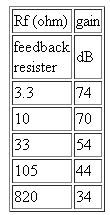 At LA3ZA Radio & Electronics is made a analize of this schematic with LM386, see the document.
At Decibels (dB) Calculator page you can understund the conversion between gain using dB, e.g. 74dB = x5000 and 20dB = x10.
I design a schematic who use jumpers for classic and special gain:
The cases are:
with all jumpers free, gaine x20:
close 1-2, gain x20..x200:
close 2-3, gain x50..x5000:
For unidirectional intercom schematic is:

A version a board and montage can be: